Des Anglais à Valduc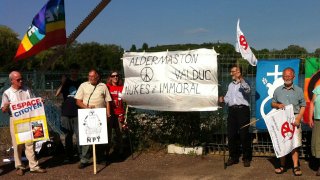 Local French media coverage of anti-nuclear protest in Dijon: click on image to see full-size picture and original article with TV footage, including interview with Caroline Gilbert. WDC/CND member Jill Beauchamp (in red) is clearly visible holding our WDC "Nukes Are Immoral" banner.
Five Days in France
Video of the recent actions by British peace campaigners in France (including a shot of WDC/CND member Jill Beauchamp holding the letter 'N' in 'Nucleaires').
Fasting in Paris - 6 August 2013
French-language report on the Hiroshima events in Paris, which this year included a Wimbledon contingent. A shot can be glimpsed of people in France signing our Valduc banner!
---

Return to Events index